Riding Academy Coaches
Cathy
Riding Academy Director
Alayne
Riding Academy Coach
Connie
Riding Academy Coach
I had a mentor while learning to ride a motorcycle years ago. I want to pay it forward to new riders and return riders that attend our classes to hone up their riding skills. From meeting the students during the first evening in the classroom, seeing them accomplish the objectives during the exercises on the range, and all the way through to the skill evaluations, ...… this makes my heart happy! I feel very proud at the end of the class to say "I contributed something to these students to fulfil their dream of being a part of this wonderful sport called motorcycling". It's a learning process for us all. I'm proud to be a Riding Academy Coach for Harley-Davidson.
Debbie
Riding Academy Coach
I absolutely love watching someone go from never riding a motorcycle to riding at the end of the Harley Davidson Riding Academy. We were all beginners when we started!
Denise
Riding Academy Coach
I started riding mini-bikes in the second grade. I love everything Harley; the grit, the steel, the people… an American icon!
Frank
Riding Academy Coach
Gary
Riding Academy Coach
Riding motorcycles has been my life long passion since I was 16 yrs. old. For me riding motrocycles fulfills a part of me that nothing else can. Teaching the New Riders Course for Harley Davidson allows me to share that passion and to pass on the knowledge and skills that new riders need in order to fulfill their dreams and passions for riding motorcyles. For me this is a very rewarding experience.
Jeff
Riding Academy Coach
My light bulb moment was after having spent diligent time with my son teaching him what I thought would make him a safe and effective motorcyclist at his ripe age of 16. I accompanied him to his BRC at Lakeland and realized my strength communicating with him. An instructor asked him where he learned his skills and I was approached by that instructor who suggested I look into being an instructor
Now that I have become part of this team. I relate to the students as if they were one of my kids and try to communicate with them to further their ability to ride safe. My reward is all the relationships I have kept in touch with after the courses and all the stories they share with me.
Jim
Riding Academy Coach
I enjoy teaching the Riding Academy classes because they provide a good introduction to the sport of motorcycling. They explain how dealership departments work and what value they add. I also enjoy teaching the RA classes because they have enough time for the students to get maximum value from the entire experience.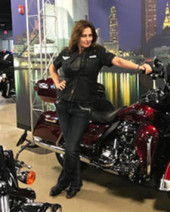 Josee
Riding Academy Coach
Ken
Riding Academy Coach
Better training equals better rider. Also I got best job ever. I get paid to ride a Harley Davidson. Once again, best job ever. (At least for this summer. Then I become old and fat ex guy with best job ever)
Ken S.
Riding Academy Coach
I've been riding motorcycles since I was a teenager, but I've only been riding "trained" since 2000 when my wife Teri convinced me to take the class with her.
I finally learned the proper way to ride "smart" and got of all those bad habits out of the way. I enjoyed the class so much, I made the decision to become an instructor. It is truly an honor to help others learn how to ride and enjoy the exhilaration that only a motorcyclist can know.
Mary Kaye
Riding Academy Coach
Mike
Riding Academy Coach
"I have loved riding since I was a kid. I would love to share that with anyone who has the desire to ride!"
Rob
Riding Academy Coach
The reason I got into teaching at the Riding Academy is because I wanted to give back. I remember going through the course to get my endorsement, and how it felt like such an achievement. I decided I wanted to help other new riders have the same experience.
Rob Z.
Riding Academy Coach
Russ
Riding Academy Coach
With 50+ years of riding many picturesque roads all over North America, it's gratifying to watch a non rider become a safe motorcycle rider with the Harley Davidson Riding Academy. I enjoy being part the beginning of their realization of the adventure of traveling this great country on a motorcycle
Sanford
Riding Academy Coach
I have been riding over 30 years. I generally ride cross country each year averaging 8-10K miles a season. My goal as an instructor is to "light the enthusiasm" to ride for each new biker. The joy of "wind therapy" can only be experienced not explained.
Sherry
Riding Academy Coach
In 1992 women were very much a minority operating a MC. I took at that time an MSF course, was nervous, passed with flying colors and now I am honored to teach what I know to all of you.
Teri
Riding Academy Coach
After taking the class in 2000, and never having rode prior, I never looked back. My husband and I have traveled all over the country on our bikes. (No trailers!) We've attended many HOG rallies, met some awesome people and had great experiences.
Terrie L.
Riding Academy Coach
The Riding Academy gives the novice rider the best chance for success. More time in the saddle equals reinforcement of the lessons being learned. Love to see the "light bulb" go off for the those with a desire to ride.